Reunion Info
There are several ways that we can assist you:
Typically, the first reunion falls 10 years after your graduation. The Advancement Office will send an inquiry to a designated Class Representative, Senior Class President or other Senior Officer members about organizing a reunion. Often other members of the class will volunteer to help.
Class Lists
A listing of your classmates and their contact information is provided and at your request, mailing labels and envelopes with a return address of LLA Alumni Relations can also be provided. The Advancement Office is able to offer two mailings per reunion to be run thru our postal meter.
The contact information is updated as alumni have notified us. As you receive new address or email information, please pass this information to the Advancement Office so we can update our records.
E-mails
The Advancement Office has the ability to do a mass email. If you have a message you would like to get out to your class, email the message to and we will get that sent out. Keep in mind that replies will come to the alumni office. You will be supplied with e-mail addresses as well.
Website & Facebook
Reunion announcements will be posted in the Alumni section and on Facebook. After your reunion, please send us a summary of the event that we can share on both the website and in any publications from the school. The Facebook Alumni Group for LLA is a very useful tool for staying connected with all things alumni at LLA.
Payment
For the 10 year class reunion, you have the option to use any remaining funds in your LLA Agency account from when you were a student. After 10 years, any remaining class agency funds will be transferred into the Student Aid account. To access this fund, receipts from the reunion must be turned into the Advancement Office. Please note that the school can only reimburse certain expenses. Please contact to find out additional details.
At the Reunion
Many classes hold their reunion the Saturday evening of Alumni Weekend with a dinner. If you would like to use any of LLA's facilities for your venue, and to schedule a campus tour please contact the Advancement Office.
Donations
It is greatly appreciated when reunions decide to give a gift to Loma Linda Academy. This can be done in a number of ways; but the easiest way is to send out a follow-up mailing after the reunion with an enclosed envelope to be sent to the Advancement Office. We will publish a thank you on the website with the gifted amount.
Some Suggestions
Create a Facebook group for your class.
Two mailings seem to be enough. The first mailing could be a survey including options for a reunion date/venue/cost. As soon as you have a date – do an email with Save-the-Date information. The second mailing should be the specifics of the reunion event asking classmates to send in their payment and a news update.
---
2019
Class Reunion Info (coming soon)
Honor Classes
1954, 1959, 1964, 1969, 1974, 1979, 1984, 1989, 1994, 1999, 2004, 2009
Please note that the Alumni Brunch on Sunday morning, April 14, has been canceled.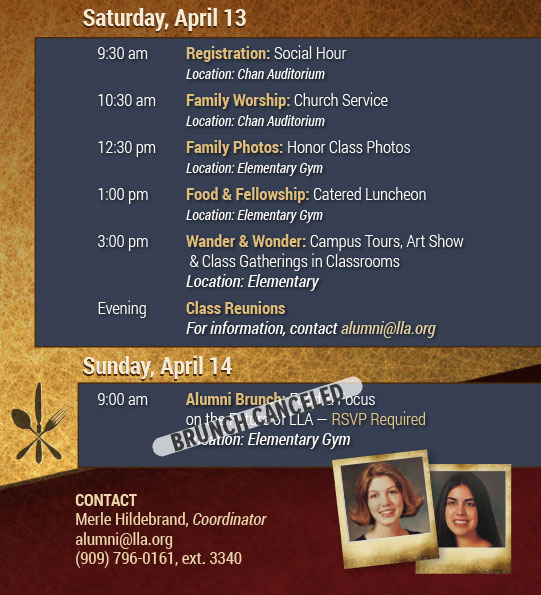 ---
2018
Alumni Homecoming 2018 Recap

Class Reunions 2018 ReCap
All Alumni (plus 2 honor classes):
Blanche (Nicola) Wilson's Residence
1953/1958:
We especially want to invite these honor classes to attend Blanche's gathering
Time:
Saturday, April 14, anytime between 3:00 PM- 10:00 PM
Optional:
bring Saturday Night Snacks
RSVP:
909-801-1710
1968:
Terry (Hayton) Weathers' Residence,
Saturday
April 14 at 6:30 PM
Feel free to bring snacks, photos, and memories –just come!
RSVP:
1978:
La
Volata
Pizzeria, Redlands, Saturday, April 14 at 4:30 PM
RSVP:
Elisabeth Longo at
or just show up!
1988:
Salt Creek Grille in Dana Point, Saturday, July 14 (Weekend Gathering July 13-15)
RSVP:
Jane Couperus: ,
Kara Watkins: ,
Class Email:
1998:
Claim Jumpers at 5:30 PM
RSVP:
Brad McCoy at
2008:
June 23-24, details TBD
RSVP:
Chelsea (Hardesty) Stump –
The Advancement Office is happy to help in the planning of your reunion.
Curious about who else planned to come?
(Many do not RSVP, but thank you to those who do for it helps us plan for food and volunteers!)
2018 Alumni Homecoming Honor Classes
75 year class of 1943
70 year class of 1948
65 year class of 1953
60 year class of 1958
55 year class of 1963
50 year class of 1968
45 year class of 1973
40 year class of 1978
35 year class of 1983
30 year class of 1988
25 year class of 1993
20 year class of 1998
15 year class of 2003
10 year class of 2008
5 year class of 2013
Alumni Homecoming 2017 Recap

The festivities began on Friday evening with a special Alumni Vespers by Dr. Doug Herrmann, LLA's Headmaster. Alumni enjoyed a delicious meal–our treat, and stayed for the laughter with friends! This was a great way to see what is and has been happening at LLA. Sabbath morning, we welcome hundreds of alumni to the Alumni Church Service in Chan Auditorium. We had our traditional roll call of the classes present as well as of current and former faculty in attendance. Afterwards, we all enjoyed a delicious lunch.
The evening brought two fun events. The gym was alive with activity and food during the Alumni Games in the High School Gym – Girls Volleyball and Boys Basketball. Corndog and curry sales were especially popular. Alongside the games, we had our Alumni & Student Arts Exhibition in the Campus Ministries Center. There was wonderful pieces of original artwork by alumni and students on display, Cooking Class delicacies, and live music performances.
We are looking forward to welcoming you back next year on April 13-14, 2018 to where so many memories and friendships began for you!